Maximum Fun!
Sep 03
Stop Podcasting Yourself 233 - Jane Stanton
Jane Stanton returns to talk about Europe, Risky Business, and bidets.

Download episode 233 here. (right-click)

Brought to you by:

(click here for the full recap) read more
Throwing Shade #44 - Victoria Jackson, Pussy Riot, FYF and Russian Delis
Bryan and Erin give up BBQ's, hand gliding, water collecting and fun in the sun to make sure shaders get their shade on Victoria Jackson's stance on gays, Pussy Riot, FYF (Fuck Yeah Festival) and Russian delis. Tell it to my heart.
Participate in #Share-tember (#Cher-tember) - spread the word about Throwing Shade and post photos of new recruits on our Facebook page in exchange for a photo of Bryan and Erin autographed with a terrible piece of advice.
@gibblertron & @bryansafi #tspod
read more
My Brother, My Brother and Me 118: Celebrity Dream Date
Just … just don't eat while listening to this episode. Please?
Suggested talking points: God Loves Pogs, Good Good Washer Boy, Exclusive Sneak Peek: How I Met Your Mother Finale, Wall Decor, Dyspepsia, Justin's Ghost Tours, Kafkaesqueread more
Jordan, Jesse, Go! Episode 239: Hobos' Getaway with Robin Thede
Robin Thede joins Jordan and Jesse for a discussion of grocery store express lanes, pranking Clint Eastwood, bachelor party planning, and scary children's movies of the 80's.read more
Meet Tom Allen and Holly Walsh: Team UK for this month's episode of International Waters
By Chris Bowman
In a continuing effort to initiate the uninitiated, we bring you a brief conversation with the UK side of this month's installment of International Waters. Holly Walsh may be best known as the comedian who broke her elbow on a very public stage. Or possibly for her Edinburgh Fringe Best Newcomer nominated show Hollycopter. She's appeared on many British panel shows including the pop music quiz show Nevermind the Buzzcocks and 8 Out of 10 Cats. Tom Allen is a Fringe festival veteran. After six consecutive appearances, he decided to sit it out this year. He's a regular cast member on the BBC Radio Four show Bleak Expectations. He also writes and presents the show Dictionary Corner.
There's a disturbing trend with the comedians who have been on this show. They are all exceedingly nice. Which begs the question: "What do they know that we don't know?" For now, I think it's residual Olympic fever.
International Waters: Holly, you are only the second repeat guest to appear on International Waters. Please describe how it feels.
Holly Walsh: Well, I feel like the first time I learned a great deal. Also, I've watched a lot of the Olympics, so I'm going to use some sporting phrases. I feel like I did enough in the first to get me through to the second one. But right now, I'm going to dig deep, I'm going to look forward, and I'm just going to do the best I can.
read more
Sep 02
Podthoughts by Colin Marshall: La Casa Rojas


Vital stats:
Format: a man speaks of many things — in Spanish
Episode duration: 5m-30m
Frequency: maybe not a going concern, but 71 episodes exist

So here's one entirely in Spanish. If you don't understand that language, I won't stop you scrolling on, but if you understand even a little bit of it — or if you want to understand all of it — you might consider having a listen. On La Casa Rojas [RSS] [iTunes], the Peruvian-born, St. Paul-based Spanish teacher Luis Rojas talks about events in his life, events in the world at large, events in history, and the many vagaries of language-learning. A simple premise, to be sure, but I listen to a great many language podcasts, and at least half of them complicate themselves straight out of usefulness. This one has held to a certain purity. You want to learn Spanish? Then hey, listen to a man speak Spanish for a while.

Put the foreign linguistic element aside — not that it makes much sense to do so here — and this show would seem to follow a common but usually unfortunate podcasting form: some guy talking about stuff. But even when I began listening, my Spanish rusted to near-uselessness, the impressive friendliness of Rojas' personality shone through. You don't realize the rarity of this until you hear it; I get the sense that most podcasters, eager to quickly scrape together whatever audience they can, affect sour pusses and hope to gather listeners under the banner of common (if exaggerated) prejudices. The strain of this charade, I would guess, has become a leading cause of the disease known as podfade. But Rojas comes across as a genuinely friendly, open fellow, just the sort of person you hope for when you know you'll miss some to most of the meaning of each sentence spoken. Should I go to a word like "avuncular" here? Or perhaps the closest Spanish equivalent I can find, the awfully literal "de tío"?

What's more, Rojas' choices of topics seem equally reflective of his personality. Some episodes verge on the academic: popular music in Latin America between 1960 and 1965 [MP3] [MP3], using the always-tricky subjunctive [MP3], the word quedar [MP3]. Others connect to to his heritage: the reign of Peru's controversial president Alberto Fujimori [MP3], the distinctive street sounds of his homeland [MP3], the origin of the pisco sour [MP3]. And then we have the episodes that, by the standards of language-learning programs, rank as almost startlingly personal: heart trouble in the family [MP3], his ride on a Grayhound bus [MP3], what Supertramp meant to him during his adolescence in military-governed Peru [MP3]. One of Rojas' most endearing mannerisms surfaces whenever he mentions his American wife, Joan, or as he almost invariably says, "Mi esposa — Joan." I don't know how well it comes across in text, but he tends to say it with that odd pause and emphasis, like he's afraid of forgetting her name. Joan, a student of Spanish, actually turns up on the podcast now and then. As she tells it, learning the language no era tan fácil como pensaba [MP3].

But by now, you surely sense that the resemblances between La Casa Rojas and garden-variety "some guy talking about stuff" podcasts, even those in Spanish, stop at the superficial. The complexities of Rojas' topics, the considerations inherent in compressing them into five- to thirty-minute episodes, and the necessity of hitting certain linguistic points along the way force him into what sounds like no small amount of scripting and editing. (Supertramp cannot simply be described, after all; Supertramp must be heard — in fair-use-sized clips, of course.) Even so, the most valuable things I learn about the mechanics of Spanish while listening tend to come neither directly from the subject of the day nor the parts of grammar explicitly described. The importance of music in the life of Luis Rojas, for instance, has not been lost on me, nor has his tendency to describe speaking and listening to languages in musical terms. When one day he happened to mention his experience of Spanish-speaking students learning by replicating sounds and English-speaking students learning by internalizing written words, some important undergirding element of my foreign-language education — obviously, one too important to describe with much clarity — locked in.

As with any language-learning podcast, I recommend listening to each episode of La Casa Rojas definitely not once, and not just twice, but at least thrice. Given its 71-strong archive, that practice gives you over 35 hours of Spanish-language listening to do. Confusingly, Rojas hasn't posted a new episode since March, but hope against podfade springs eternal. But even if we already possess the complete Rojas canon, it still provides a comfortable, well-positioned step in this particular podcast-based linguistic journey. If you lack any Spanish whatsoever, you might consider beginning with something like Coffee Break Spanish, moving up to its successor Show Time Spanish, putting in those 35 hours with La Casa Rojas, and then steeling yourself for the sufficiently vast realm of podcasts made for native Spanish speakers. Watch out; those guys talk a lot faster than Luis Rojas. Sometimes they're barely avuncular at all. Nada de tío. Completamente nada.

Comment or suggest a podcast on the Podthoughts forum thread

[Podthinker Colin Marshall hosts and produces Notebook on Cities and Culture [iTunes]. Contact him at colinjmarshall at gmail or follow him on Twitter @colinmarshall.]read more
Sep 01
International Waters Episode 7: Live in London
Strap-in for conspiracy theories, national delicacies and an argument over cheese as special guest, Jon Ronson, joins contestants Holly Walsh, Jordan Morris, Ron Babcock and Tom Allen at the Leicester Square Theatre in London.
With both teams on the same continent for the first time ever we learn about British "mine food", Gentleman's Relish and The Big Dog Theory.
We've got more photos on our Facebook page and if you missed out on this one, we'll be taping live International Waters episodes at MaxFunCon East and at The San Francisco Comedy and Burrito Festival.read more
Aug 30
Judge John Hodgman Episode 73: Gavelbangers Ball
Complainant Caroline and her boyfriend Will share many interests, but there's one thing they just can't agree on. Will says that metal is an important genre to him, musically and personally, and that Caroline hasn't given it a fair shake. Caroline finds the music jarring and distasteful and says she's heard enough to say so. Who is right, and who is wrong?
Guest bailiff Monte Bailiff Belmonte of WRSI offers his assistance this week, and we are joined by a SECRET EXPERT WITNESS.
STREAM OR DOWNLOAD THIS PODCAST
VIEW THE EVIDENCE
SUBSCRIBE TO THIS PODCAST in ITUNES or the RSS FEED
read more
Aug 29
Stop Podcasting Yourself Bonus Episode - LIVE from the Canadian Comedy Awards
Comedian Debra DiGiovanni joins us for a live show from Toronto's Comedy Bar during Canadian Comedy Awards weekend. Recorded on Friday, August 24th.read more
Bullseye: Kurt Andersen, Ari Graynor, Chris Fairbanks
Our show is guest hosted this week by Jordan Morris. Jesse Thorn will return next week. Check out more from Jordan on the podcast Jordan, Jesse, Go! or on his blog.
Music and a Movie with Keith Phipps and Marah Eakin

AV Club editor Keith Phipps recommends Quadrophenia, a film based on the rock opera of the same name by The Who. Music Editor Marah Eakin recommends the single I Will Wait by Mumford & Sons. (Embed or share this segment with Keith Phipps and Marah Eakin)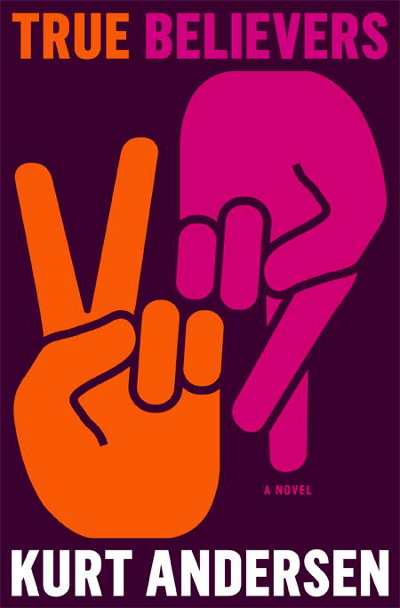 Kurt Andersen's True Believers

Kurt Andersen is the host of Studio 360, co-founder of the satirical Spy Magazine and a novelist. He brought his love of research and cultural criticism to bear when he penned the new novel True Believers, the story of a high profile lawyer who steps away from a nomination to the Supreme Court. True Believers follows her on a quest to piece together a mysterious episode in her childhood during the Cold War and the age of the spy novel. Andersen fondly recalls his own childhood interests in espionage, and he discusses the leap of faith required for a trained journalist to stop doing research and begin trusting the imagination. The end result is a novel which weaves together generational politics, 1960s counter-culture, and a children's game that becomes all too real. (Embed or share this interview with Kurt Andersen)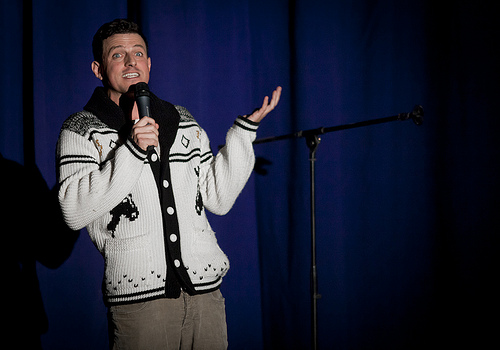 MaxFunCon 2012, photo by liezelwashere

Comedian Chris Fairbanks on Being Mugged

Ever had a neighborly mugging experience? Comedian and artist Chris Fairbanks knows what it's like. He told us this story at the fourth annual Max Fun Con. (Embed or share Chris Fairbanks on Being Mugged)
For a Good Time, Call… Ari Graynor

Ari Graynor plays a lot of outrageous, messy roles — she was a self-destructive college student on The Sopranos, and she played a drunken best friend in Nick and Norah's Infinite Playlist — but her characters have heart and a kind of innocence. The same is true of her most recent role of Katie Steele, the brash-yet-vulnerable young Manhattanite who runs a phone sex line in the new movie For a Good Time, Call. The film is in select theaters nationwide this week. Ari talks to us about the 80s films that inspired her, the story's depiction of female friendship, and the strange intimacy and appeal of phone sex. (Embed or share this interview with Ari Graynor)
The Outshot: No Use for a Name

Jordan shares his passion for the music of the late Tony Sly, of punk band No Use for a Name. (Embed or share The Outshot: Tony Sly and No Use for a Name) Got a favorite band you want to spread the word about? Head on over to the MaxFun forum and pick your own Outshot. Subscribe to Bullseye in iTunes or the RSS feed!read more